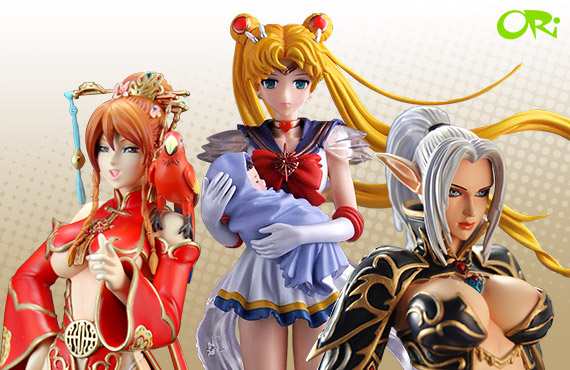 What is ORi?ORi
Project is originated by
E2046
, this aims to bring dream-world characters into reality with imagination. Planning, drafting, designing, manufacturing, and finally getting to sale, everything are effort of our own. While we are really excited about it as we do know every piece of our work is unique.
ORi Represents 'Creativity'
In anime, comics, games and illustrations, there are loads of characters & each of them could have hundreds or if not, thousands of poses & variations. Sadly, GK has much less option. Taking our experience and inspired from market, we are picking potentials & transform them into reality. We hire illustrators, sculptors and experienced workshops for the project; we also participate in every procedure to ensure the quality.
Beginning of Project
We start off by discussing in meeting and get ideas from references. A digital painting will be made as soon as the design is picked, then sculptor comes into place, and we will go through every piece of detail. Everything is a result of our collective effort and repeated modifications.
Our First ORi Work
We started off with
Gothic Lolita Dress Haruhi
. A few drafts were made before we confirm the design, and the sample was modified a few times too. At the final inspection, we found a few parts were off our expectation thus we redid the related parts from beginning. We hope the striving spirit could give us wings and bring our work towards for perfection.
Series
We started our second project as soon as the first one got done & we came up with three main series; in 2010, we found that the existing lines cannot carry our ideas thus introducing another two, hence, we now have five different series:
Fashion
Includes popular & fashionable characters standing at the very front of the trend
Darkness
Where mystery, classical elements or medieval setting are adopted as main theme
Elegance
Focus in noble dressing, feature in Chinese or Oriental favour crossing over with fantasies
Change
In short term, GK with magnet on a picture frame, while the background image can be swap easily.
Infinity
Represents infinite imagination. With more and more ideas being collected, anything that cannot put into above lines belong here
We have albums and work-in-progress that were updated constantly for all our projects. If you have time to take a look on them, you will find interesting information. And of course, we will keep our effort on bring more interesting works and ideas for you and try our best to make every of our work as good as possible!
Finally, we sincerely hope that you will be fond of our works.